This is my contribution for a poster competition. The imposed theme was "Ostend Pirates".
CONCEPT
The Port Town Ostend produced some inspiring flamboyant personalities with a contrary "Pirate" attitude.
I thought it would make a great pirate crew...
- My Ostend Pirates are -
1) Iwein:
Bartender & founder of the festival
2) Arno:
singer (
Rock, Chanson, Blues,...)
4) Kamagurka:
Comedian, cartoonist, painte
r,...
5) Basje (Alain):
One half of the stale comedy duo 'Preuteleute'
6) Tom (Ook Alain):
The other half of 'Preuteleute'
COMPOSITION STUDY
Scanning the useful sketches, cut & paste them together in photoshop
I tried out some ship-backgrounds. 
This is one I hijacked from an very old illustration. The composition is more fitting together now. 
The engraving sky-look was a nice suprise, it fits the mood but have to be worked out better. 
And I've worked on the lettering.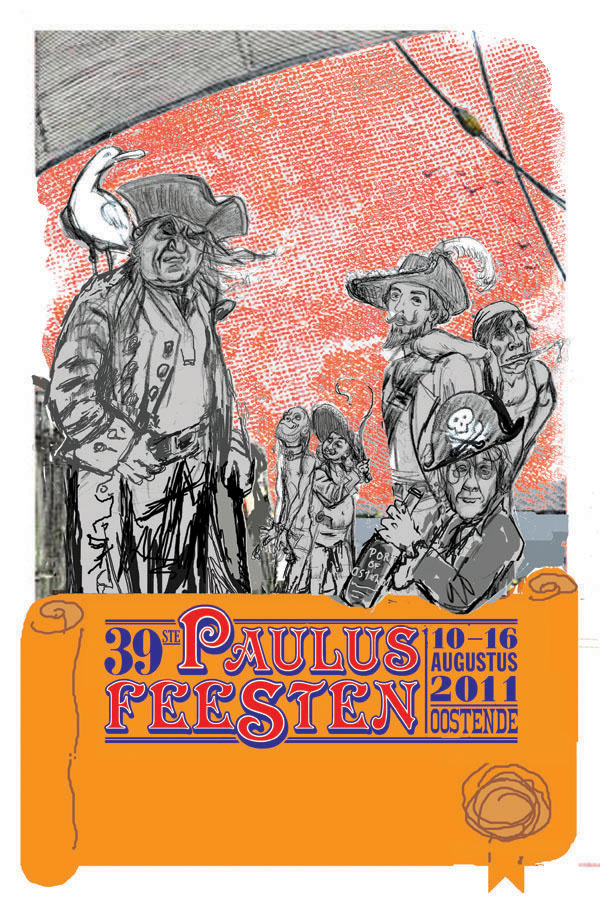 GRIDS
I was inspired by the aesthetics of primitive colourprinting. 
So I restricted myself to a limited color scheme: only pure colours, without tone gradients and with rough grids.
In the art shop I've found an old stock with grids.
FINISHING
I've scanned in the grids from the shop. The sky is from an engraving of G. Doré. I a
dded floral patterns in the clothes. 
I've drawn some extra details, the sailtexture and the parchment. Some last corrections.
Finished the lettering. The seal is the logo of the festival.
And the last step is giving it some rough handicraft-printed-texture.
The empty space is for the sponsor logos.