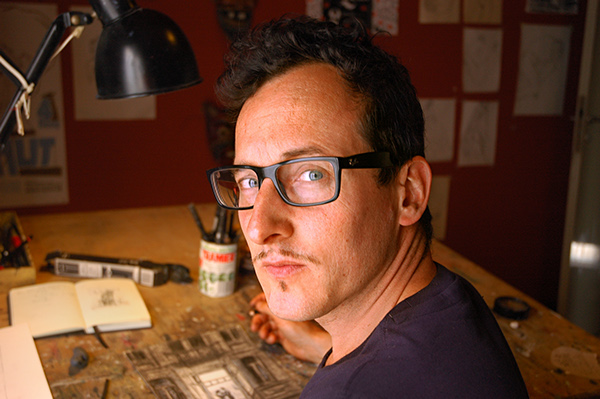 (ENG)
Stijn Felix is a seasoned illustrator whose work has been commissioned by many popular Belgian media. From book covers, 
t
o editorial illustrations, album artwork, cultural posters and recently character design, his work has a penchant for the dark, 
the devious and the melancholic but is always lit up by a subtle sense of humour. 
I designed the additional characters for WHERE IS ANNE FRANK by Israeli director ARI FOLMAN (Waltz with Bashir).  This animated movie tells the story of Anne Frank from Kitty's point of view, Anne's imaginary friend.
I worked under the guidance of art director and character designer LENA GUBERMAN. The characters are being brought to life by WALKING THE DOG (BE)  - release 2021
HUMO, KNACK, VACATURE, TRENDS, DE STANDAARD, NEERLANDIA
Posters for cultural events in the CITY OSTEND, KUNSTVAARDERS, VRIJSTAAT O
Life drawings in DE TIP VAN JE TENEN, a theater piece by 4HOOG & HET PALEIS, 2013
CLAVIS, DE EENHOORN, FACET, ROULARTA BOOKS, QUERIDO, DE CARBOLINEUM PERS
JAN SWERTS, SLOW PILOT, PREUTELEUTE, ED WYDE-E, KRAAFS, LES PILIERS DE CABARET
- PRIZES AND NOMINATIONS -
Featured in the book - Leaders in Contemporary Illustration - Capsules Book 
Australia
Book containing
the best contemporary illustrators worldwide - C
apsules Book 
Australia
VINYL FRONTIER AWARD 2016
Best Album Artwork - Schaduwland, Jan Swerts
Nomination Best Album Artwork - Belgian Music Industry Awards - Schaduwland, Jan Swerts
Nomination Young Illustrators Award, Berlin
EUROPA 14-14 / Posters Competition
Silver in the International Posters competition - WWI remembrance Festival in Berlin
bpp Bundeszentrale für politische Bildung, 2014
Nomination Best Album Artwork - Anatomie van de Melancholie,  Jan Swerts - Belgian Music Industry Awards
KnackFocus Stripstrijd 2010
Tunguska wins gold, a collaboration with scenarist Dieter Rogiers
Former biennial  Comic Competition of the Belgian Magazine Focus Knack
If my work could be suitable for your project or you have questions, let me know.
Knokkestraat 45, 9000 Gent
.........................................................................................................................................................................................................




(NL)
Stijn Felix is een ervaren illustrator die werkt in opdracht van vele populaire Belgische media. Van boekomslagen, pers illustraties, platenhoezen, culturele affiches en recent character design, zijn werk heeft een voorliefde voor het donkere, het onverwachte en het melancholische maar is altijd verlicht door een subtiel gevoel voor humor. 
- CONTACT -
Mocht mijn werk geschikt zijn voor je project of je hebt vragen, laat maar weten.
Knokkestraat 45, 9000 Gent