A collaboration between reveil and the Academy for Visual Arts Ghent

Een samenwerking tussen reveil en de Academie voor Beeldende Kunsten Gent
Nov 1st - DAY OF THE FORGOTTEN STORIES
"A cemetery is not a chilly place, but a gathering place where thousands of stories form the roots of a community"





NL


1 nov - DAG VAN DE VERGETEN VERHALEN


"Een begraafplaats is geen kille plek, maar een verzamelplaats waar duizenden verhalen de wortels van een gemeente vormen"
Storyteller - Stijn Felix - ceramics
ENG
Reveil is a unique event on All Saints. At as many cemeteries as possible, around sunset, the silence is interrupted with intimate music and local storytellers.
NL
Reveil is een uniek evenement op Allerheiligen. Op zo veel mogelijk begraafplaatsen wordt even, rond zonsondergang, de stilte doorbroken met intieme muziek en lokale verhalenvertellers.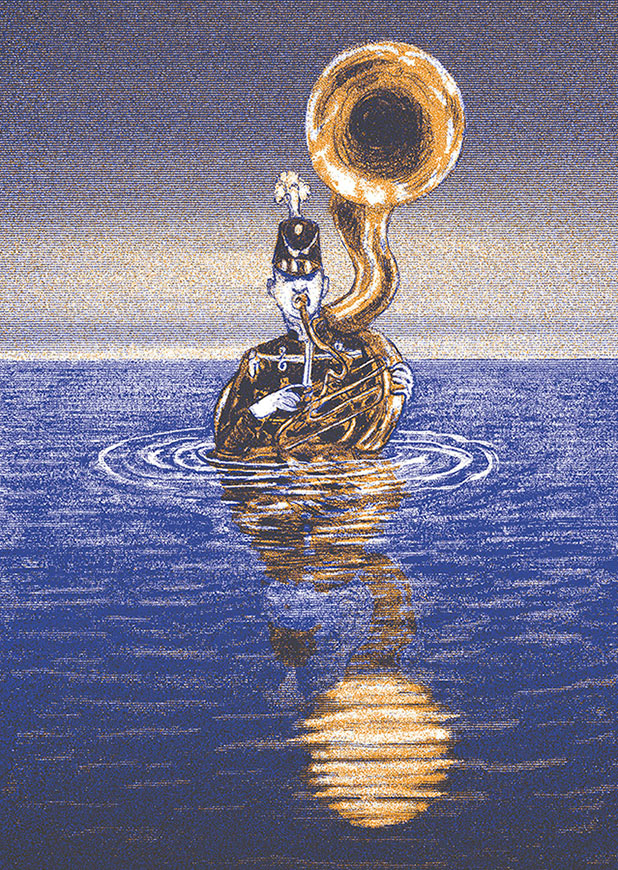 ORIGINATION of REVEIL
Zinger, the Belgian band that combines indie elements with brass music, set up Reveil a few years ago. 
Originally, the project started with four young people from Deerlijk, the hometown of Zinger, who died shortly after each other much too early. What started as an intimate concert at the cemetery in Deerlijk has grown into an event involving one in four Flemish municipalities.
NL
ONSTAAN van REVEIL
Zinger, de Belgische band die indie-elementen combineert met blaasmuziek, zette enkele jaren geleden Reveil op poten. Oorspronkelijk begon het project met vier jonge mensen uit Deerlijk, de hometown van Zinger, die kort na elkaar veel te vroeg om het leven kwamen. Wat starte als een intiem concert op de begraafplaats in Deerlijk is inmiddels uitgegroeid tot een evenement waar een op de vier Vlaamse gemeenten betrokken.
​​​​​​​
EDITION 2017
For the 2017 edition, Pieter De Knut, the inspirer of reveil and frontman of Zinger, wanted to provide next to music and stories, a new visual part. I was invited to participate and coordinate this visual part.
GROUP PROJECT
I teach evening lessons, illustration and comic strip to adults at the Art Academy in Ghent. it seemed like a nice idea to commit all my students. I made up some assignments, there was room for free work. Later in the process I also involved the direction ceramics led by Eleni Paschalidis in this project.
NL
EDITIE 2017
Voor de editie van 2017 wilde Pieter De Knut, bezieler van reveil en frontman van Zinger, naast muziek en verhalen een nieuw beeldluik voorzien. Ik werd uitgenodigd om dit beeldluik te coördineren.
GROEPSPROJECT
Ik geef avondles illustratie en beeldverhaal aan volwassenen aan de Academie in Gent. Het leek me direct een fijn idee om hiervoor al mijn studenten te engageren. Ik verzon enkele opdrachten, er was plaats voor vrij werk. Later in het proces betrok ik ook de richting keramiek onder leiding van Eleni Paschalidis bij dit project. 


ENG
BOOK ILLUSTRATIONS
Throughout the year people send warm anecdotes or life stories of little heroes who are no longer there. Up-and-coming writer's talent wrote matching poems. All this was bundled in a book and my pupils were invited to take care of the illustrations.
NL
BOEKILLUSTRATIES
Het hele jaar door sturen mensen warme anekdotes of levensverhalen op van kleine helden die er niet meer zijn. Aanstormend schrijverstalent schreef bijpassende gedichten. Dit alles werd gebundeld in een boek en mijn leerlingen mochten zorgen voor de illustraties.
My students made different cover proposals. These 4 covers who were in the running: 
ABOVE
- Annelien Smet, Sarah Eyckerman -
AND THE 2 BELOW BY
 Hanne Haverals
The design of Annelien Smet was chosen to adorn the cover.
- Illustrations in the book by students, inspired by the stories and poems -
COMFORT CARDS
Need: I noticed that it's hard to find beautiful consolation cards in the shops.
As if losing a loved one is not bad enough. Then you receive a load of well-intentioned but horrifying cards on top.
Assignment: Time to change that! Make a fresh and personal comfort cards. Technical limitation: In 2 specified colors.
TROOSTKAARTJES
Nood: Het valt me op dat er amper schone troost kaartjes te vinden zijn in de handel.
Alsof het verliezen van een dierbare nog niet erg genoeg is. Dan krijg je er nog een lading goedbedoelde maar afgrijselijke kaartjes boven op.
Opdracht: Dat kan beter! Maak een fris en persoonlijk troostkaartjes. Technische beperking: In 2 opgegeven kleuren.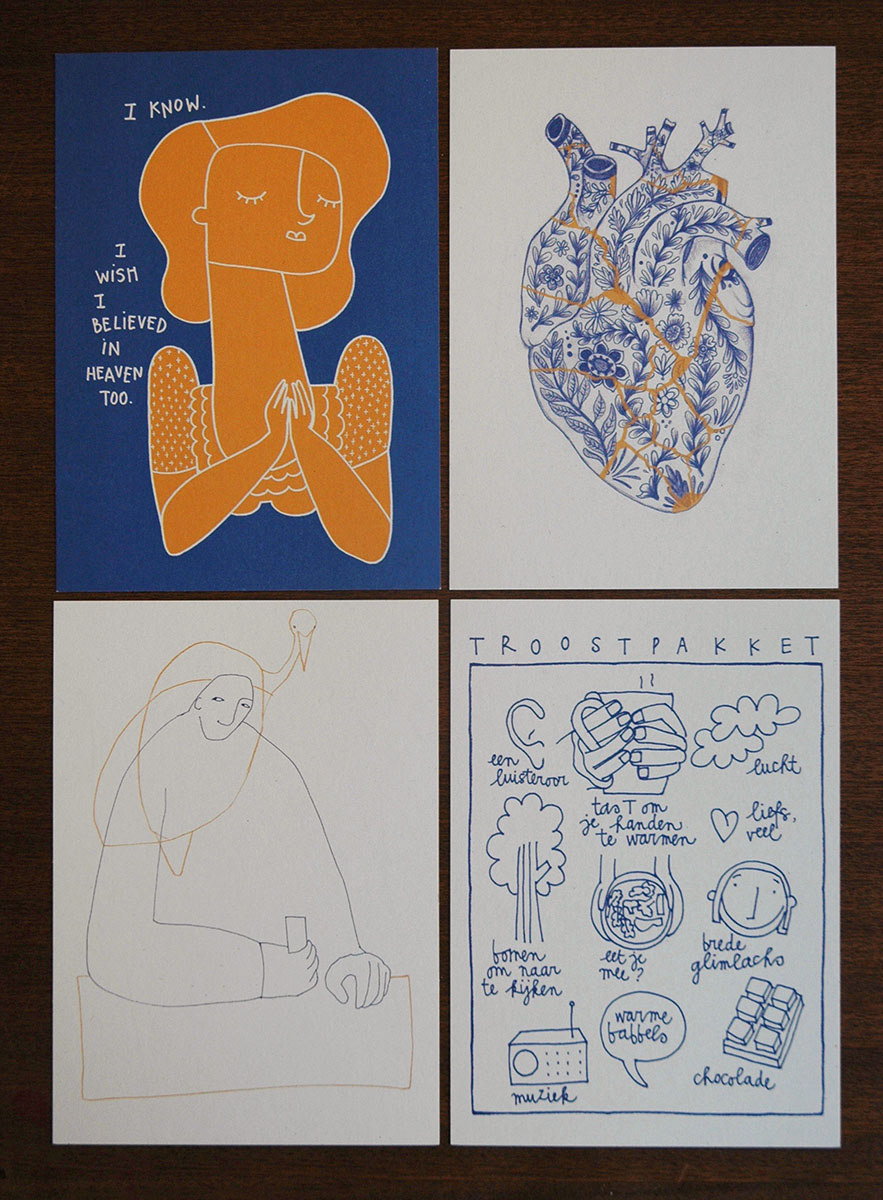 Barbara Van Ransbeeck - Eline Van der Gucht - Hanne Haverals - Saskia Rogge
Hemmerechts Ann - An De Winter - Sarah Eyckerman - Eva Tienpont
Andres Corthier - Hanne Haverals - Eline Van der Gucht
Sarah Eyckerman - Eline Van der Gucht - Bart Schouppe
Yelle De Knock - Greet Cannaerts -Stijn Felix
Barbara Van Ransbeeck - Saskia Rogge - Eva Tienpont
Charlien Blacke - Ariane Verschaeren -Ilse Van Bellegem
Saskia Rogge - Andres Corthier - Peter Senecaux
- SOME OTHER ILLUSTRATIONS -
by Saskia Rogge - An De Winter
Charlien Blancke - Goedele Raes (ladder)
ENG
CERAMICS
The typical oval portraits on tombs and the porcelain figurines on windowsills along Flemish roads inspired us to discover a different medium.
And I was excited to get started sculpting in clay myself. That's the nice thing about teaching at the academy. There are fine colleagues with know-how in other disciplines. It resulted in a fantastic interaction worth repeating. More collaborations in the future and who knows more sculpting myself...?
NL
KERAMIEK
De typische ovale portretjes op graven en de postuurkes op vensterbanken langs Vlaamse wegen inspireerden ons om eens een ander medium te verkennen.
En zelf had ik ook wel eens zin om te boetseren. Da's het leuke aan lesgeven op de academie. Er lopen fijne collega's rond met knowhow in andere disciplines. Dit resulteerde in een fantastische wisselwerking die smaakt naar meer, meer samenwerkingen en wie weet ook zelf nog eens meer boetseren…?
We had the opportunity to set up an expo in an special location, the  former farewell room of the Cemetery, Westerbegraafplaats in Ghent. Just one day, november 1st and with live concerts of Wwwater and Low Land Home at sunset.
We kregen de kans om een expo in te richten op een bijzondere locatie, de vroegere afscheidsruimte van de Westerbegraafplaats in Gent.  Slecht een dag, 1 november met live concerten van Water en Low Land Home tijdens zonsondergang.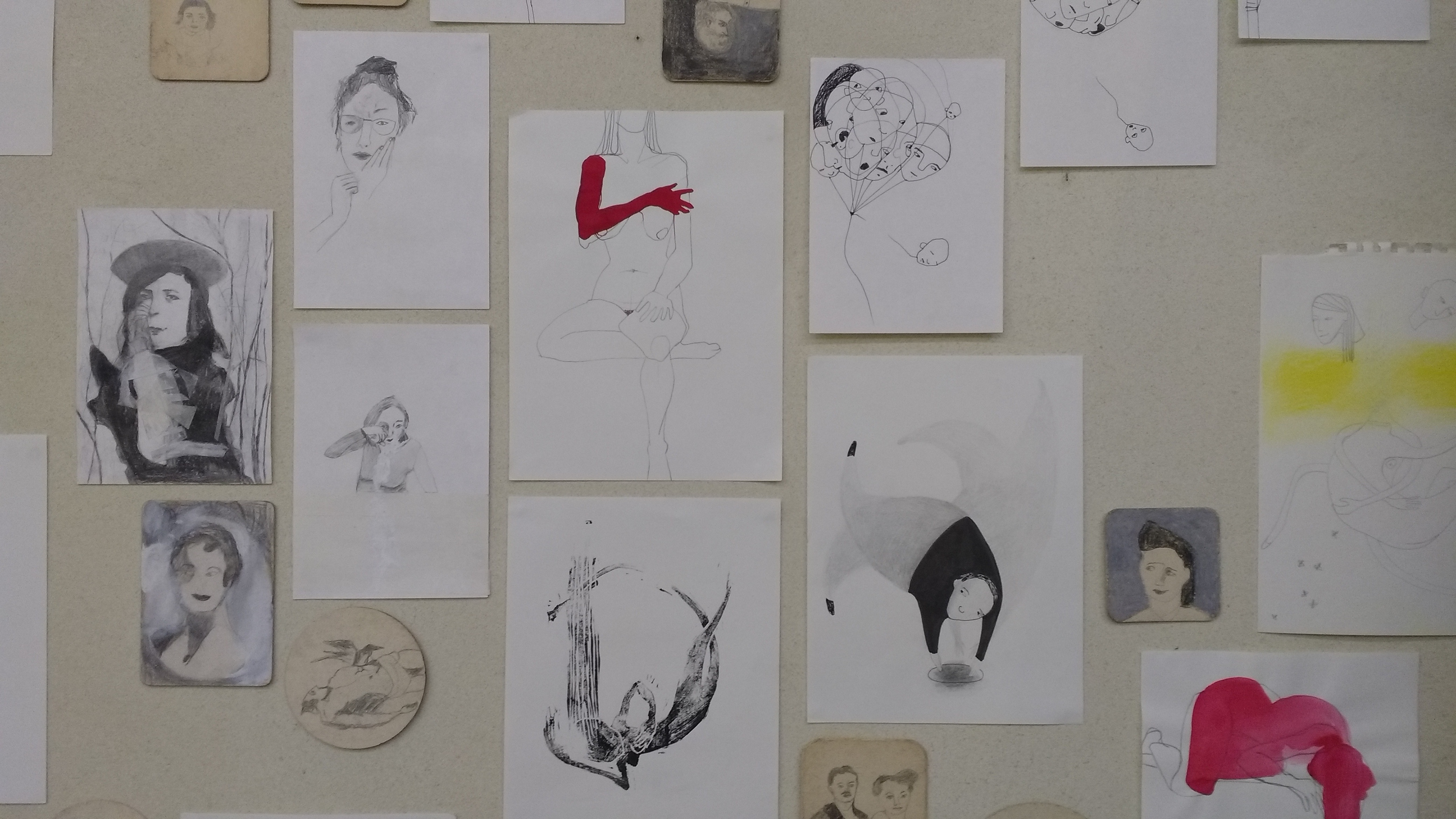 Works by different students illustration and ceramics  
Portrait older couple - Greet Cannaerts
Saskia Rogge - Greet Cannaerts
Hanne Haverals (drawing) - Marijke Bral
Saskia Rogge - Greet Cannaerts